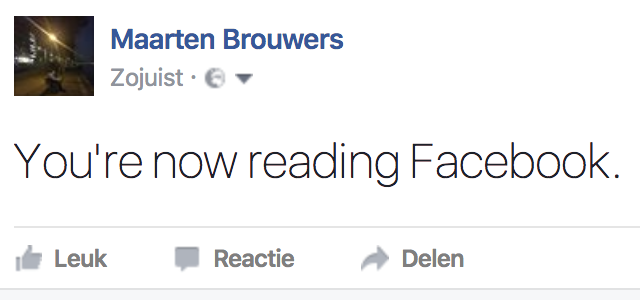 TLDR; Without the control and true freedom of speech we should regard Facebook as nothing but a attention draining casino made for people with fear of missing out. Equally so, we should consider it as an active sender as it actively modifies what is being said and consumed. And hold it responsible as such.
Probably most of us have felt fear of missing out. So we try too keep up with too many sources of information and entertainment. Facebook et al. promise to help us by filtering information. It is well described in for example the Facebook guidelines of how their newsfeed algorithm is supposed to function.
The filtering one gets is based on the behaviours of others. It is based on the often correct premise that the more people agree that something is 'worth sharing' or 'worth interacting with' makes it more 'worth showing'. Especially amongst 'like-minded' (actually: l…
Facebook is doing another tweak on the timeline algorithm because they want "to show people the most interesting stories at the top of their feed". Ok, sounds fair.
But then their announcement says: "Through testing, we have found that when people see more text status updates on Facebook they write more status updates themselves."
In other words: updates invite updates. It doesn't work for pages, though, as they "noticed that this effect wasn't true for text status updates from Pages." Guess people want to be as noisy as their friends. We're social animals. But pages are not animals, so we won't be as noisy as them. Hence we'll receive more animal/friends-updates and less from pages. Even though some of the pages you'll probably follow/liked because they're so damn informative, more informative than your ever bullshitting friends :)
Anyhow, recap. So Facebook changed the algorithm to show people the most interesting stories and hence they tweaked the algorithm in such a way…